KOCEVAR NEZKA, Exchange Student
Country: Slovenia; University: University of Ljubljana
Period of Study: October 2019 to September 2020


Nice to meet you. I'm Kocevar Nezka, from Slovenia. I am a third-year student at the Graduate School of Japanese Studies at University of Ljubljana. I came to Fukushima University almost four months ago as an exchange student, and I'm now living in Kokusai Kōryū Kaikan. I would like to tell you about what I have experienced so far.

When I first arrived in Fukushima, I thought that it looked like the capital of my country, Ljubljana, and that was a nice feeling. My room in the Kokusai Kōryū Kaikan is a little small, but it has a toilet, bed, and kitchenette, and is convenient. The room got cold in winter, so I bought a heater.

I take a train to get to the university. The classes are very interesting and my teachers are all kind. I participate in a judo circle, and my university classes include weightlifting and badminton.

I not only take classes at the university but also have participated in many activities and tours. I went to Iizaka in early October and participated in the Kenka Matsuri (Fighting Festival). After carrying a portable shrine around the town, we relaxed in a wonderful hot spring. On October 12, 2019, typhoon #19 hit Eastern Japan, damaging many homes. I volunteered in Fukushima Prefecture with other international and Fukushima University students. When we arrived at the town where we were to help, the damage was worse than I had imagined. In November I visited the coastal area that was devastated by the earthquake and tsunami of 2011. The atmosphere at the site of Ukedo Elementary School, which was gutted by the tsunami, was sad. The view of the sea was really beautiful, but thinking about what had happened there made me feel even sadder. In December, I visited the Fukushima Daiichi Nuclear Power Plant with other Fukushima students. It's not often that one can have this kind of experience. It was really interesting. At the university, I am also studying about radioactivity and the nuclear accident in Fukushima.

Apart from study and tours, in my free time I do a lot of different things with other international students and Japanese people. I had a birthday party at the Kokusai Kōryū Kaikan in October where we ate hot pot, made takoyaki, and baked a cake. I made cookies at Christmas time. That took me all day because I had to use a microwave instead of an oven. Sometimes I take trips with Fukushima University students. For example, we went to Matsushima by car, which was a lot of fun.

I've made new friends, studied Japanese, and had so many new experiences. I'm truly grateful for the opportunity to study at Fukushima University!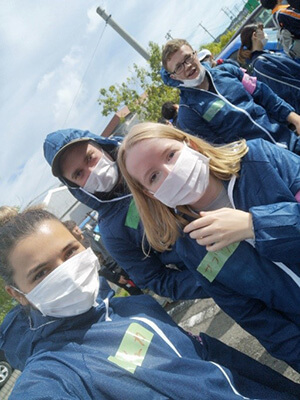 ▲ In October, I volunteered in a town that was damaged by a typhoon.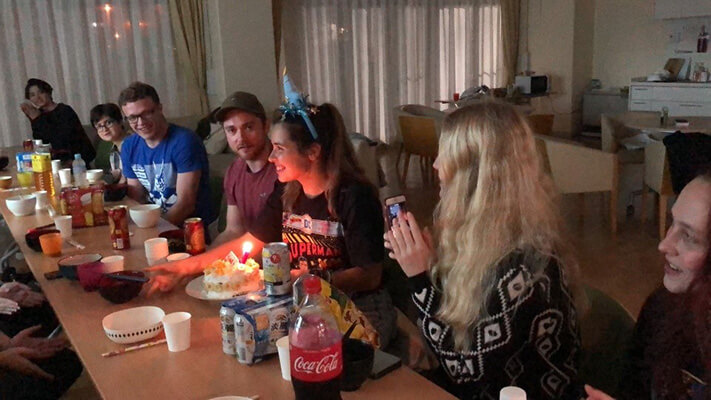 ▲ This is my birthday party at the Kokusai Kōryū Kaikan.