International Students

Fukushima University is a national university founded in May 1949. It has five faculties and four graduate schools, and about 4,500 students. As a university located in the region affected by the Great East Japan Earthquake and the Fukushima nuclear accident of March 2011, the university is actively carrying out support activities in areas struck by the disaster. In April 2022, 87 international students were enrolled in the university. The university's faculties and graduate schools are shown below.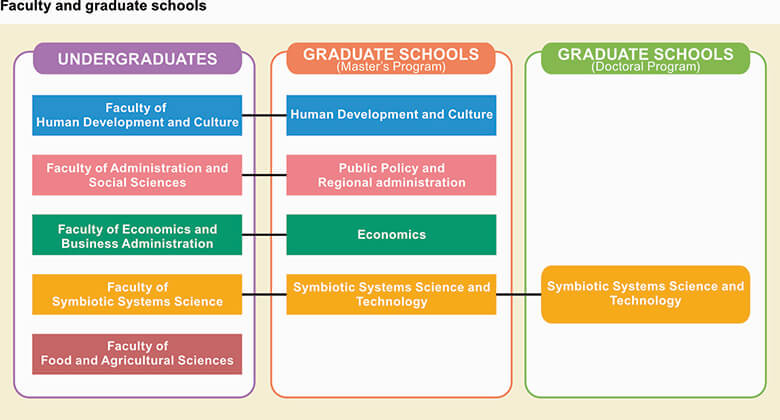 For details of Fukushima University faculties and graduate schools, please see:https://www.fukushima-u.ac.jp/undergraduate/
Study Abroad Information
There are three ways to study abroad at Fukushima University.
1. As Privately-Financed International Students
(1) If you wish to enroll in one of the university's undergraduate faculties, you should take the entrance examination for privately-financed international students.

(2) If you wish to study in one of the university's graduate school faculties, you should take the entrance examination for the graduate school you are interested in. Details can be found on the "Entrance Exam Information" page.

(3) If you would like to be a research student, please refer to this page: Applying to be a Research Student
2. As MEXT Scholarship Students
There are three types of courses: Embassy Recommendation, University Recommendation, and Teacher Training Course, and the application process differs depending on the course.
https://english.adb.fukushima-u.ac.jp/international/mext.html


Please apply according to the procedures established by MEXT (the Ministry of Education, Culture, Sports, Science and Technology).
https://www.mext.go.jp/a_menu/koutou/ryugaku/06032818.htm
3. As Exchange Students
Students from universities that have a student exchange agreement with Fukushima University (and who do not have Japanese nationality or permanent residence status in Japan) can apply to be Exchange Studentss.
(1) Length of exchange
One semester or two semesters
(2) Dates of semesters
First semester: April 1 - September 30
Second semester: October 1 - March 31 (of the following year)
(3) Application deadline
For April enrolment: By October 31 of the previous year
For October enrolment: By April 30
(4) Application method
Please apply through the department in charge of international exchange at your home university. For more information, please contact the department in charge of international exchange at your home university.
Exchange Studentss are allowed to take classes in the "Courses for Exchange Students."
(5) Application form

Required documents for admission to Fukushima University.pdf

01_Application for Admission(Form1).xlsx
02_Questionnaire(Form2).docx
03_Application for certificate of eligibility.xlsx
04_Housing Application_Exchange Students.doc
  →About International House.docx
05_Certificate of Health.pdf

06_Endorsement of Application to Fukushima University from Home University indicating the intended period of stay (An Academic Reference Letter)
07_1 Copy of Transcript of Records in English
08_2 color photos (40㎜×30㎜)
09_1 copy of the information page of passport
10_Proof of financial support (the equivalent of a minimum of 960,000 yen for two semesters or 500,000yen for one semester) is required. The proof could be a certificate of the deposit balance of your bank account or a certificate of scholarship (if applicable).
Housing for international students
Click here for information on housing for international students.
Scholarships for international students
Click here for information on scholarships for international students.
Academic Year Schedule for International Students
Term
Event
Date
Remarks
First Semester (April-August)
J-cat Test
Late March to early April
Test of Japanese reading comprehension, vocabulary, etc.
Interview (New Students Only)
Early April
Our Japanese language teachers will have a 15-minute interview (conducted via Zoom or face-to-face) with each student to see his/her speaking level.
Start of Semester
4 April
 
Classes
7 April - 27 July
 
National Holiday:昭和の日
29 April
No Classes
National Holiday:憲法記念日
3 May
No Classes
National Holiday:みどりの日
4 May
No Classes
National Holiday:こどもの日
5 May
No Classes
Deadline for dropping courses
26 April
You can drop courses until April 26th by notifying the Fukushima University International Center.
*Some subjects are not allowed to be withdrawn.
National Holiday: 海の日
18 July
No Classes
Final exams period
28 July - 5 August
 
End of Semester
5 August
 
Summer Break
6 August - 30 September
 
Second Semester (October-February)
J-cat Test
Mid to late September
Test of Japanese reading comprehension, vocabulary, etc.
Interview (New Students Only)
Late September
Our Japanese language teachers will have a 15-minute interview (conducted via Zoom or face-to-face) with each student to see his/her speaking level.
Start of Semester
1 October
 
Classes
1 October -3 February
 
National Holiday:体育の日
10 October
No Classes
Deadline for dropping courses
12 October
You can drop courses until October 12th by notifying the Fukushima University International Center.
*Some subjects are not allowed to be withdrawn.
School Festival
27 - 30 October
No Classes
National Holiday:文化の日
3 November
No Classes
National Holiday:勤労感謝の日
23 November
No Classes
Winter Break
25 December -
4 January
No Classes
National Holiday: 成人の日
9 January
No Classes
Monday in lieu
10 January
Though it is a Tuesday, it is handled as a Monday, and Monday's classes are held.
University closed due to preparation for university entrance exam
13 -14 January
No Classes
Final exams period
4- 14 February
 
End of Semester
14 February
 
Spring Break
15 February -
31 March