WANG ZE, Faculty of Symbiotic Systems Science
Country: China
Period of Study: April 2017 to March 2021


This is my fifth year in Japan, and my third year in Fukushima. First I studied Japanese for half a year at a Japanese language school in Tokyo. Then I studied at a vocational school for a year to prepare for the study abroad exam, and finally I took the university entrance exam.

When I first came to Fukushima, I wasn't used to the small number of trains. If you don't catch the 8 am train, you will definitely be late. After experiencing this a few times, I got accustomed to it and have been able to lead a regular, on-time, life.

What I love most about Fukushima is the beautiful natural scenery. I've visited many places in the three years I've been here, including Mount Azuma-kofuji (an active volcano), the Five Colored Lakes, and Tsuruga Castle in Aizu. It was not only great to see famous places with traditional Japanese culture and history that I could not experience in the city, but I was also able to more deeply understand Japanese culture. My favorite activity since coming to Fukushima is summer camp. Every year, international students go camping at Lake Inawashiro, where we enjoy barbecuing, swimming, and other lake activities.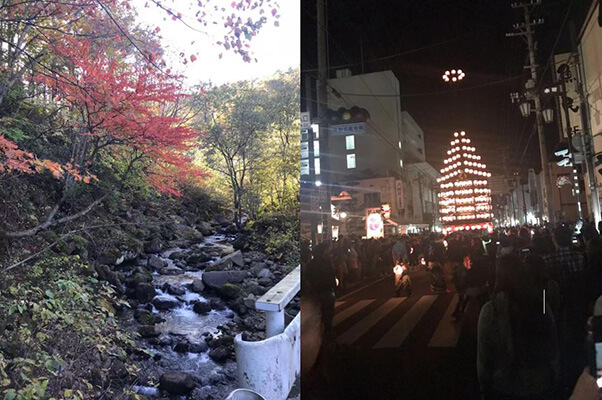 My favorite aspect of Japanese culture is the festivals. Each region has its own unique festival, and festival day is the busiest day of the year. There are outdoor food stalls and people wear traditional kimonos. I find it impressive that such centuries-old customs have not disappeared.

My daily life, like that of other international students, is filled with study and part-time work. After classes in the daytime, I have a part-time job at night. It's a difficult schedule, but I have to earn money for living expenses and tuition, and I learn a lot from my part-time job. For example, Japanese social rules and the way the service industry works aren't taught at school. On the academic side, I'm currently a third-year student in the Faculty of Symbiotic Systems Science and Engineering, assigned to a laboratory where research is conducted on genes and microorganisms. I get a little tired, but every day is fulfilling.

I communicate with a lot of people living in Fukushima Prefecture. Everyone is kind, and they teach me many things about the customs and culture of Japan and Fukushima. I also enjoy telling them about my hometown and its culture. Unlike Tokyo, Fukushima is a quiet place where you can concentrate on your studies and enjoy the natural environment. It has already become my second home.